Save the Date


October 5th


Green Skies, A Double Rhythm





Green Skies, A Double Rhythm | October 5th 2019 from Lisa Freeman on Vimeo.





︎︎︎︎︎︎︎︎︎︎︎︎︎


Call for members to join Pivot




Pivot is a newly formed performance critical forum, taking place at The LAB Gallery.


We are looking for artists and curators with an interest in interdisciplinary art practices
that have performative outcomes to take part in monthly discussions and crit sessions.
Members will be invited to present new works or works in progress on a monthly rotation
and receive feedback from the group. We have allocated three spaces to curators that
are interested in performance, writing about performance, or discussing the crossover
between curatorial and performative art practices. Invited guest curators will host
discussions with the group on an intermittent basis.


To apply please send a statement of 200 words on why you are interested in joining or
how this would benefit your artistic/curatorial practice by Friday 23rd August at 5pm to
pivotperformandcrit@gmail.com


Monthly meetings will be held on the second Tuesday of the month from 6.30 - 8.30 pm
at The LAB Gallery.

Please note that selected members will be asked to commit to the group for a year, this
is for the purpose of building a critical and supportive framework.

Pivot is a new initiative of Lisa Freeman and Astrid Newman, supported by The LAB Gallery,
Dublin.

︎︎︎︎︎︎︎︎︎︎︎︎︎︎


Young Art Writers Programme 2019




In partnership with RHA Gallery and The LAB Gallery

31 August, 7 September, 14 September, date in November TBC, 2019

Ages 18 – 25

CALL FOR PARTICIPANTS

After the success of the first Young Art Writers programme in 2018, which took place in
partnership with the RHA gallery, we are delighted to announce the 2019 Young Art Writers
Programme, with a new partner on board, The LAB Gallery. This year the programme will take
place from 11am – 4pm over three Saturdays: 31 August (TBG+S), 7 September (RHA) and 14
September (The LAB), and culminate with a day in November during the 2019 Dublin Art Book
Fair at TBG+S (date TBC).

The programme is designed for anyone age 18 – 25 who is interested in art and writing or who
would like to be introduced to this area. No previous experience is necessary and all levels of
writing ability are welcome.

The programme is devised to immerse the participants into thinking about writing in relation to
the visual arts in a number of ways, in order to support the participants formulating their own
writing practice. Each day will be located in each of the galleries, and will combine a workshop
with events such as exhibition tours, studio visits, talks, and group discussions. Each day the
group will explore a different aspect of writing and this creative process, including performance,
collaboration, response, critiquing, exhibiting, and more.

Workshops will be facilitated by artists and writers Nathan O'Donnell (Paper Visual Art), Lisa Freeman,
and Lily Cahill (winner of DCC/VAI Art Writing Award 2019). Participants will receive exhibition tours at
the three galleries, visit artist Suzanne Walshe in her studio at Fire Station Artists' Studios, attend a
talk by writer Kevin Breathnach (Next Generation Artist 2018), and more. Participants will be encouraged
to think about various possibilities of writing in and around art and to be open to engaging with new
techniques, critical thinking, and more. The programme will be faciltiated by artist and writer, Molly May
O'Leary.

︎︎︎︎︎︎︎︎︎︎︎︎︎︎


Open call for performers








Audition Times:
5th of July 10am-5pm
6th of July 10am-1pm

Location:
Riverbank Arts Centre

This is a paid role for the rehearsals and the performance.
All ages 18+, all genders.

Artist Lisa Freeman is looking for 6 performers for her performance based on the 'Wrens of The
Curragh'. This will be a live performance set over a four hour duration on Saturday the 5th of
October on the Curragh.

If you have a preferred time slot for the audition please mention this in the email and we will try
to accommodate this. If you are interested in auditioning please email Lisa directly with your CV
to freeman.lisamarie@gmail.com

This project is funded by the Kildare County Council & Creative Ireland Award.
Riverbank Arts Centre is a partner organisation to this event.


︎︎︎︎︎︎︎︎︎︎︎︎︎︎


Interview in District Magazine
April Guide




http://districtmagazine.ie/

︎︎︎︎︎︎︎︎︎︎︎︎︎︎


Collaborative Language-Making Workshop

In association with Dublin Learning City Festival
ARC IADT and The LAB Gallery12.04.19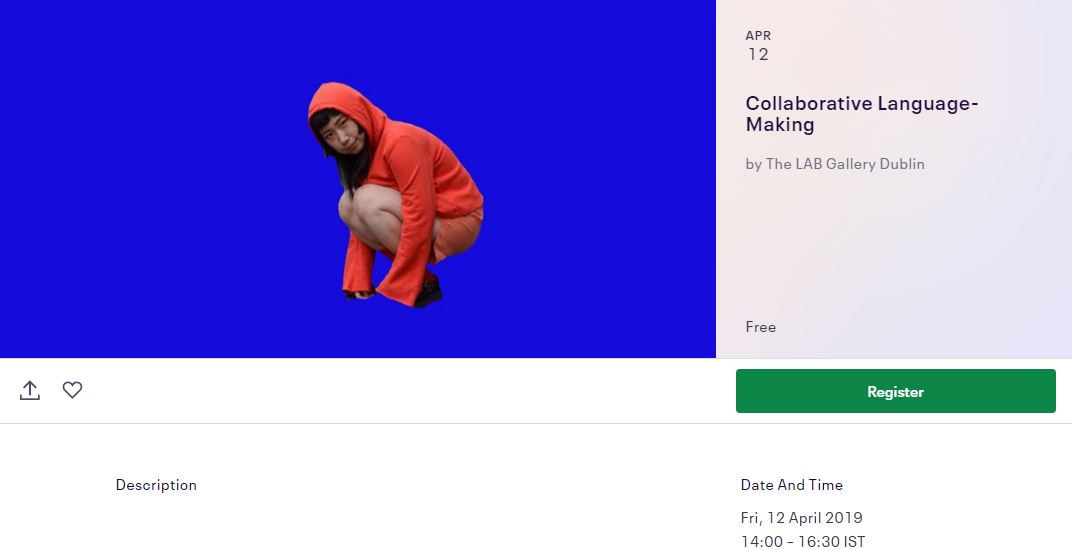 This workshop is based on collaborating through text and language to deliver short presentations or
performances. Participants will be invited to find descriptive/emotive language and words in the
provided texts and expand on this with their own writing. Participants will work individually and
collaboratively to consider timing, placement of words and actions (if any).

The outcome will be the development of a new narrative that will be removed from its original context.
Participants will gain experience of performing this 'new language' in front of a group and receiving
directions and advice from Lisa Freeman.


Venue: The LAB Gallery, studio 4

Maximum number of participants: 12

Material: Text books, magazines, newspapers, construction manuals.
Content of material - Feminist / self help / fiction.
Booking via this link ︎


︎︎︎︎︎︎︎︎︎︎︎︎︎︎


TBCTV

Somerset House London
03.10.18



TBCTV, an installation bringing together visual art performance and theatre from Studios residents
Mel Brimfield, Ewan Jones Morris and Chloe Lamford at Somerset House, London.


Transforming Somerset House's Lancaster Rooms into a mock television studio, TBCTV presented
rolling coverage across its six TV channels showing a range of moving image work including show
reels, music videos and animations. Artists include Tamy Ben-Tor, Karolina Bregula, Sol Calero &
Dafna Maimon, Brian Dewan, Andy Holden, Kalup Linzy, Rachel Maclean, Heather Phillipson, Mary
Reid Kelley, Jennet Thomasand Bedwyr Williams.

TBCTV was supported by the Case Foundation and the Art Fund.