Green Skies, A Double Rhythm


Artist Publication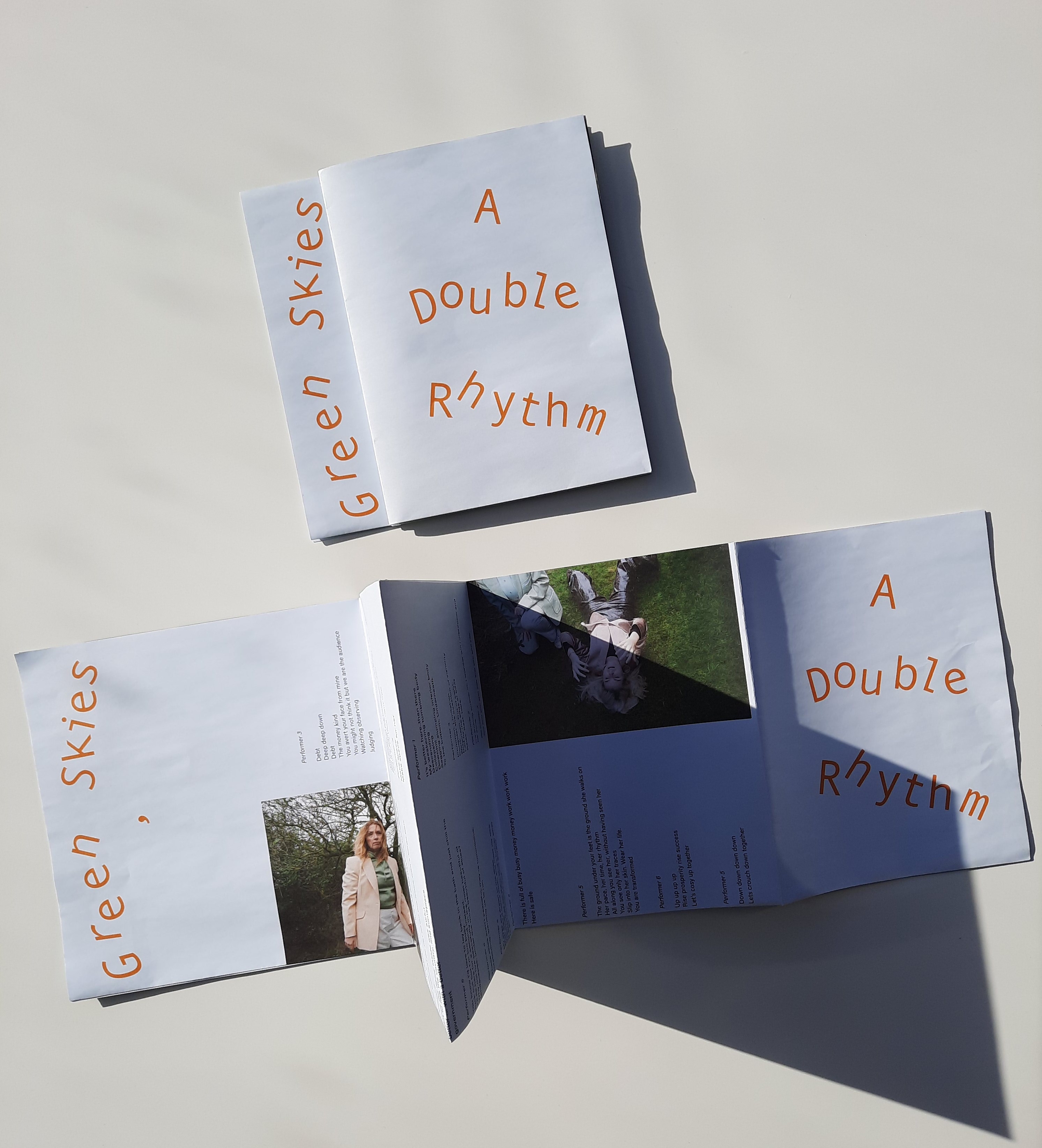 Publication layout, digital version
Image: Temple Bar Gallery + Studios Book Fair, November 2020
About
This is a fold out publication, created as a document of the live performance, Green Skies, A Double Rhythm, October 2019. This is 22x20 cm (approx A5 sized) when closed. When opened up it folds out to A1 size with text and images on one side and a large scale image on the reverse.
Included is:
A written overview of the live performance
Lily Cahill's written response titled 'Ladies Run! There's A Man In The Rose Garden'.
An excerpt of the performance script.
Selected images of the live performance
More info on the Temple Bar Gallery + Studios Book Fair can be found
here
About the performance
Green Skies, A Double Rhythm was a site-specific performance that looked at the lived experiences of the 'Wrens of the Curragh'; a marginalised community of women sex workers that lived in gorse bushes outside the army base in Kildare in the 19th Century. The performers led the audience on two different promenade performances that were centered on a live musical score by a drummer on site.
This multi-layered work looked at the lives of this marginalised community of women, alongside contemporary issues of labour and exploitation.
Credits and thanks


Publication Design
Becks Butler

Written Response
Liiy Cahill



People involved


Musician
Sarah Grimes

Performers
Claire Blennerhasset, Emma Finegan, Lauren Kelly,
Niamh Murphy, Mary Pat Moloney, Mary Power Cooney

Photography
Dan Reidy

Videography
Louis Haugh

Production Assistance
Róisín Bohan

Special Thanks To
Dan Reidy, Maeve Connolly, Sinéad Hogan

© Lisa Freeman November 2020. All rights reserved.
No part of this publication may be reproduced or transmitted in any form without permission of the publisher.