NEWS
---




I'm delighted to have been awarded a Project Studio at Temple Bar Gallery + Studios for the coming year (2022/23)


Project Studios are aimed at artists developing exciting emerging practices. The artists were awarded their studios by a selection panel including a current TBG+S Studio and Board member, and established curators based in Ireland and internationally, following an open submission application process. The artists will begin their studio tenure over the coming months. Each of the awarded artists share an acute connection to some element of the world that, as a whole, encompasses a wide range of vital concerns in contemporary life. Their exciting practices encourage expansive thinking that offers alternative ways of perceiving familiar subjects. We look forward to welcoming them all into the TBG+S community.


More info can be found

here
---
Visual Artists' Ireland News Sheet
March - April 2020
Expanded Sculpture Column by Audrey Walshe in response to
Unassembled
exhibition.
Further info can be found
here
Unassembled, The LAB Gallery, 2020
January 16 - January 19 2020
Dun Laoghaire Institute of Art, Design and Technology and The LAB Gallery are delighted to present
Unassembled.
The exhibition is curated by Julia Moustacchi and features work by ten artists currently completing the IADT Masters in Art and Research Collaboration (ARC): Brenda Brady, Anishta Chooramun, Heather Cody, Penelope Collins, Collette Farnon, Lisa Freeman, Marie-Louise Halpenny, Marie Phelan, Dylan Ryan & Audrey Walshe.
Discussion and tour: The Ideal Exhibition, Saturday 18 January 2020, 3pm
How has the ideal space of the exhibition changed, for artists, curators and art audiences? These developments will be explored by Bassam Al Sabah, Georgina Jackson and Marysia Wieckiewicz-Carroll in a conversation hosted by curator Julia Moustacchi and chaired by ARC co-director Maeve Connolly.
Ealaín Na Nóg, workshop 2019
November 2019
Teaching a 'Collaborative-Language Making' workshop for Ealaín Na Nóg, Dublin City Arts Office.
This is a partnership initiative and with
Dublin City Comhairle na nÓg
& The Dublin City Arts Office. Ealaín Na Nóg is creative space where young people can share artistic practices, ideas and skills. Featuring guest artists on a bi monthly basis.
Slow Set ~ a night of performance ~
The LAB Gallery, Culture Night 2019
Friday September 20th
Curated by Lisa Freeman and Astrid Newman
Acts from:
YEMI AKA: Fried Plantains Collective
Yoga for the Eyes
Maria Somerville
DJ Roo HoneyChild
More info can be found
here
Booking open for Green Skies, A Double Rhythm
October 5th 2019, The Curragh, Kildare
Booking link can be found
here
About the performance:
Green Skies, A Double Rhythm is a site-specific performance that looks at the lived experiences of the 'Wrens of the Curragh'; a marginalised community of women sex workers alongside contemporary issues of labour and exploitation. Performers will lead the audience on two different promenade performances that are centered on a live musical score by a drummer on site.
Trailer for live performance: Green Skies, A Double Rhythm


Performance: October 5th 2019

Booking via Riverbank Arts Centre, Newbridge
Call for members to join Pivot, 2019

August 2019

Pivot is a newly formed performance critical forum, initiated by Lisa Freeman and Astrid Newman, taking place at The LAB Gallery, Dublin.

We are looking for artists and curators with an interest in interdisciplinary art practices that have performative outcomes to take part in monthly discussions and crit sessions. Members will be invited to present new works or works in progress on a monthly rotation and receive feedback from the group.

To apply please send a statement of 200 words on why you are interested in joining or how this would benefit your artistic/curatorial practice by Friday 23rd August at 5pm to pivotperformandcrit@gmail.com

Monthly meetings will be held on the second Tuesday of the month from 6.30 - 8.30 pm at The LAB.

Please note that selected members will be asked to commit to the group for a year, this is for the purpose of building a supportive framework for group members.

Young Art Writers Programme 2019
CALL FOR PARTICIPANTS - Teaching a writing workshop
In partnership with
RHA Gallery
and
The LAB Gallery
31 August, 7 September, 14 September, date in November TBC, 2019
The programme is designed for anyone age 18 – 25 who is interested in art and writing or who would like to be introduced to this area. No previous experience is necessary and all levels of writing ability are welcome.
The programme is devised to immerse the participants into thinking about writing in relation to the visual arts in a number of ways, in order to support the participants formulating their own writing practice. Each day will be located in each of the galleries, and will combine a workshop with events such as exhibition tours, studio visits, talks, and group discussions.
Workshops will be facilitated by artists and writers Nathan O'Donnell (Paper Visual Art), Lisa Freeman, and Lily Cahill (winner of DCC/VAI Art Writing Award 2019). Participants will receive exhibition tours at the three galleries, visit artist Suzanne Walshe in her studio at Fire Station Artists' Studios, attend a talk by writer Kevin Breathnach (Next Generation Artist 2018), and more. Participants will be encouraged to think about various possibilities of writing in and around art and to be open to engaging with new techniques, critical thinking, and more. The programme will be faciltiated by artist and writer, Molly May O'Leary.
Open Call For Performers

July 2019


Audition Times:
5th of July 10am-5pm
6th of July 10am-1pm

Location: Riverbank Arts Centre

This is a paid role for the rehearsals and the performance.
All ages 18+, all genders.

Artist Lisa Freeman is looking for 6 performers for her performance based on the 'Wrens of The Curragh'. This will be a live performance set over a four hour duration on Saturday the 5th of October on the Curragh.

If you have a preferred time slot for the audition please mention this in the email and we will try to accommodate this. If you are interested in auditioning please email Lisa directly with your CV to freeman.lisamarie@gmail.com

This project is funded by the Kildare County Council & Creative Ireland Award.
Riverbank Arts Centre is a partner organisation to this event.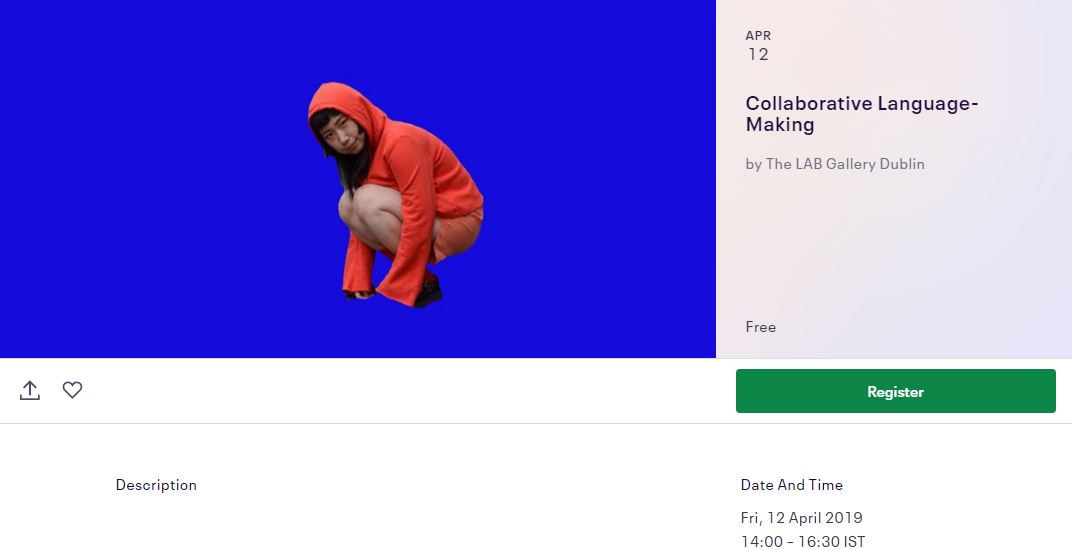 Collaborative Language-Making Workshop
In association with Dublin Learning City Festival
ARC IADT and The LAB Gallery
April 2019
During this workshop partcipants will be asked to collaborate through text and spoken language to deliver short presentations or performances.
Venue: The LAB Gallery, studio 4
Maximum number of participants: 12
Material: Text books, magazines, newspapers, construction manuals.
Content of material - Feminist / self help / fiction.
Booking via
this
link ︎
TBCTV Exhibition
Somerset House London
October 2018
TBCTV, an installation bringing together visual art performance and theatre from Studios residents Mel Brimfield, Ewan Jones Morris and Chloe Lamford at Somerset House, London.
Transforming Somerset House's Lancaster Rooms into a mock television studio, TBCTV pesented rolling coverage across its six TV channels showing a range of moving image work including show reels, music videos and animations.
Artists include Tamy Ben-Tor, Karolina Bregula, Sol Calero & Dafna Maimon, Brian Dewan, Andy Holden, Kalup Linzy, Rachel Maclean, Heather Phillipson, Mary Reid Kelley, Jennet Thomas and, Bedwyr Williams.
TBCTV is supported by the Case Foundation and the Art Fund.
https://
www.somersethouse.org.uk/whats-on/tbctv